Electrical Thermographic Surveys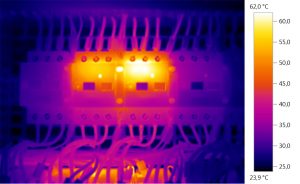 Lindale Building Services use Fluke Thermal Imager Ti105 to detect any abnormalities which cannot be seen with the naked eye.
A Thermal Imaging Camera is used to scan the electrical distribution boards, switch gear and other key components to detect signs of heat. Abnormal heat in an electrical system may indicate loose connections, high resistances, overloads or phase imbala
nces.
Potential problems can often be found due to excess heat being released by the component, even those which would normally produce high temperatures when performing at their optimal level.
If unnoticed these problems can lead to failure and can result in expensive production loss or downtime and, in severe cases, can lead to fire.
Survey Details
Thermal imaging can be done as part of our periodic testing which involves one of our electric
ians visiting your premises with a Fluke Thermal Image Camera which uses infra-red technology to detect any anomalies. If any potential problems are found, then remedial works can be prioritised before they become serious hazards. Thermal Image Surveys can be carried out during normal working hours, with no interruption or disruption to your organisation, however we are happy to carry out the survey out of hours and work around your schedule.
On completion of the thermal imaging test we will provide you with a comprehensive report using Fluke SmartView Software featuring  thermal images and all temperatures of all areas surveyed.